What's new?
APAO 2021 Scientific Programme Committee
We are excited to introduce to you the APAO 2021 Scientific Programme Committee. APAO Congress has long been the premier scientific meetings in the Asia-Pacific region and beyond, and received worldwide recognition. Our Scientific Programme Committee are fully committed to developing a world-class scientific programme for our APAO 2021 Virtual Congress. In addition to the 18 ophthalmic subspecialties, we have a special programme this year dedicated to the clinical practice of ophthalmology during the time of the COVID-19 pandemic.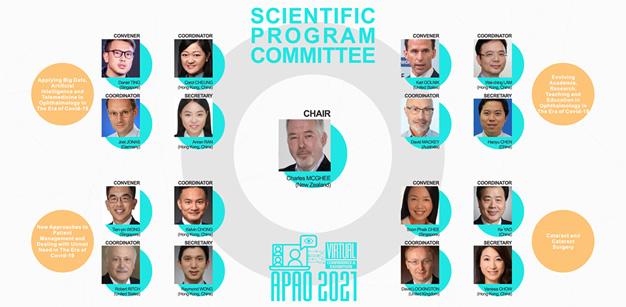 * Click to check the full list in the PDF file.
---
Good news! The Asia-Pacific Academy of Ophthalmology has been awarded the Distinguished Service Award 2019 at the American Academy of Ophthalmology (AAO) Annual Meeting in October. Our President, Prof. Ningli Wang received the award at the Opening Ceremony from AAO's President, George Williams, MD, and CEO, David Parke II, MD. Congratulations!

Press to watch the video.