PROGRAM OUTLINE
1. Induction and Orientation
The 2011 – 2012 Class participated in the Induction and Orientation session during the 26th APAO Congress in Sydney, Australia. This 2.5-day session was held at the RANZCO office and included a half-day practical workshop on negotiation skills. A Sydney Harbour Bridge climb was also organized for the participants.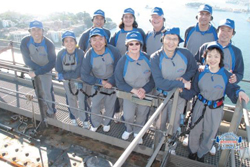 2. Mid-year Forum
A 3-day intensive session was held in Kuala Lumpur from September 9 – 11, 2011, sponsored by the Malaysian Society of Ophthalmology (MSO) and with the full support of Prof Ken Fong (LDP Participant) and Ms Evelyn Ng, executive to the MSO. The session included didactic lectures and interaction sessions. The social program included a dinner hosted by Prof Goh, president of the MSO, as well as an evening tour to view the unique Selangor fireflies.
3. Self-initiated Project
Each participant was required to plan and execute a self-initiated project and they were to forward their project briefs and propose a mentor to the Central Secretariat by a stipulated deadline (January 16, 2010). A mentor was assigned to each participant to provide personal guidance.
4. Graduation
The following participants presented their projects and graduated from the program on April 16, 2012, at the 27th APAO Congress in Busan, Korea.
(in alphabetical order by surname)
1
Dr. Mannyu Budu (Indonesia)
Project Title:
Effort of Indonesia Ophthalmology Association (IOA)
South Sulawesi, Indonesia to Increase Mass Cataract
Surgery Scooping

2
Dr. Colin Chan (Australia)
Project Title:
Assessment of the Current and Future Eye Care Workforce in Australia



3
Prof. Kenneth Fong (Malaysia)
Project Title:
Setting Up an Eye Research Centre in Malaysia

4
Prof. Samantha Fraser-Bell (Australia)
Project Title:
Improving Delivery of Treatment for Age-related Macular Degeneration

5
Dr. Yutthaphong Imsuwan (Thailand)
Project Title:
Orthoptic program in Thailand

6
Prof. Susumu Ishida (Japan)
Project Title:
Contributions of Ophthalmologists to the Earthquake/Tsunami Survivors in Japan



7
Dr. Vincent Lee (Hong Kong, China)
Project Title:
Virtual Reality Surgery Simulator for Ophthalmic Microsurgery Training

8
Prof. Yuanbo Liang (Hong Kong, China)
Project Title:
Promotion of the Communication among Young Ophthalmologists Between Mainland and Hong Kong, China

9
Dr. Lyndell Lim (Australia)
Project Title:
Identification of the Potential Obstacles Preventing Greater Participation in the Royal Australian & New Zealand College
of Ophthalmologists by its Female Members

10
Dr. David Liu (Hong Kong, China)


Project Title:




Establishment of the APAO Online Education "International Consultation for Ocular Oncology & Pathology Cases"



11
Dr. Manchima Makornwattana (Thailand)
Project Title:
Updatinge Information and Enhancing Thai Ophthalmologists Society Communication by SMS (Short Message Service)

12
Dr. Jose Maria Martinez (Philippines)


Project Title:




Development of Online Collaboration Tools for Ophthalmic Training and Practice in the Philippines



13

A/Prof. Khairidzan Mohd Kamal (Malaysia)


Project Title:
Strategy in Establishing New University Based Eye Center in Developing Country

14
Prof. Muhammad Moin (Pakistan)


Project Title:


Development of the Pakistan Journal of Ophthalmology
(PJO), a Quarterly Peer Reviewed Scientific Publication of


the Ophthalmological Society of Pakistan



15
Prof. Ki Ho Park (Korea)


Project Title:




Effect of Education and Feedback to Enhance Resident's Detection Rate of Glaucomatous Optic Nerve Head in Fundus Photography



16
Dr. Dong Pham (Vietnam)


Project Title:




Strategy to reduce corneal blindness in Vietnam



17
Dr. Johann Michael Reyes (Philippines)


Project Title:




Hope in Sight Foundation, Philippines



18
Prof. Chi-Chin Sun (Chinese Taipei)
Project Title:
The Influence of Nuclear Irradiation on Ocular Morbidity
in Nuclear Power Plant Workers

19
Dr. Hai Yen Tran (Vietnam)
Project Title:
Proposal to Establish a Model of Sustainable Standard Eye
Care Service in General Hospitals in Urban Areas of Vietnam

18
Prof. Seung-Young Yu (Korea)


Project Title:




The Ophthalmological Exam in Health Screening at a National Level and its Result