We are pleased to announce that the Asia-Pacific Academy of Ophthalmology is organizing its fifth Asia-Pacific Eye Care Week in the second week of October, from October 5 – 11, 2015, in conjunction with World Sight Day 2015 (October 8, 2015).
This year, the Public Education Standing Committee has worked with the Central Secretariat to identify two major themes for the event, namely 'Childhood Myopia' and 'Eyelid Lump/Mass'. APAO is working closely with our subspecialty member societies in the region, including the Asia-Pacific Strabismus and Paediatric Ophthalmology Society (APSPOS) and the Asia-Pacific Society of Ophthalmic Plastic and Reconstructive Surgery (APSOPRS), to produce a comprehensive set of educational material and media kit. Member societies are most welcome to use the reference materials for public educational purposes during the 5th Asia-Pacific Eye Care Week. Please feel free to download and use the artworks of the 5th Asia-Pacific Eye Care Week to acknowledge your support to our initiative.
Media Kit
Eye Care Campaigns in the Asia-Pacific Region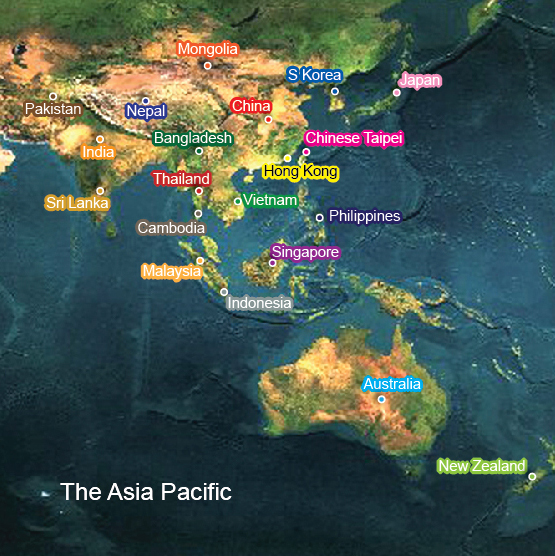 In Bangladesh …
The Ophthalmological Society of Bangladesh (OSB) observed the 5th annual Asia-Pacific Eye Care Week from October 5 – 11, 2015, in conjunction with World Sight Day 2015 (October 8) under the guidance of Prof. Ava Hossain, Vice President, Asia Pacific Academy of Ophthalmology (APAO).
As part of the eye care week, OSB arranged programs addressing this year's themes: childhood myopia and eyelid lump/mass. These included a weeklong awareness program, two seminars related to the themes and school sight testing programs that also emphasized eye care awareness.
1.Awareness Programs:
Throughout the week, there were awareness programs on eye diseases, specifically childhood myopia and eyelid lump/mass, in hospitals and schools. Group talks and one-on-one counseling on ocular diseases allowed for two-way communication between health care workers and patients. These were mainly facilitated by nurses at a booth, though ophthalmologists also participated. The topics addressed included eye problems in adults and children and their causes, identifying eye problems including cataract, the type and location of treatments available, the effects of not wearing spectacles and more.
2.Seminars:
The seminars arranged by OSB were held on October 7th and 8th. APAO Vice President Prof. Ava Hossain was the main guest, and Prof. Md. Sharfuddin Ahmed, OSB President, was the chair of the session. Professionals from around the country, including well-respected ophthalmologists, residents and postgraduate students, were in attendance. The sessions were very interactive and participatory.
3.School Sight Testing:
During eye care week, OSB conducted sight testing programs in three schools, and the vision of 750 students was tested. Out of these, 121 children were identified with visual acuity <6/12 in one eye. All these children were referred to the OSB eye hospital for further eye examination and refraction. Two children were diagnosed as cases of strabismus. In addition to sight testing, the students were taught about eye health and eye care. The school authorities and the children were all very welcoming.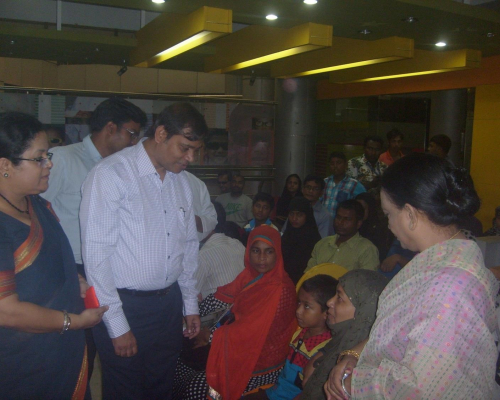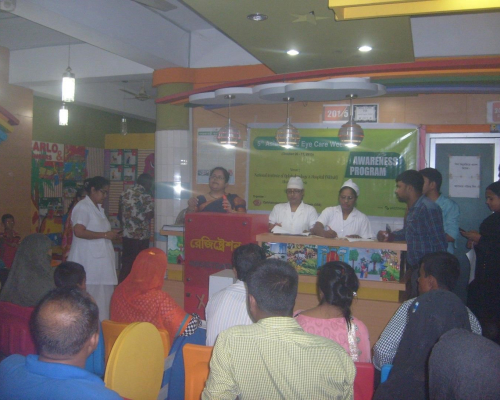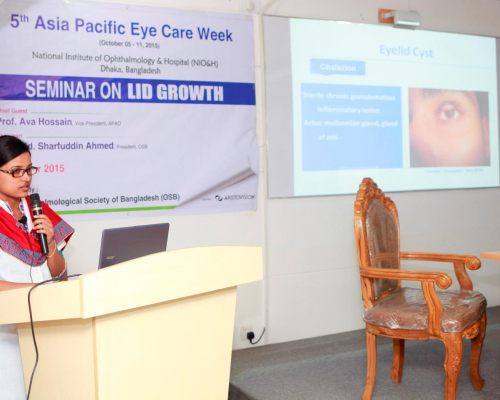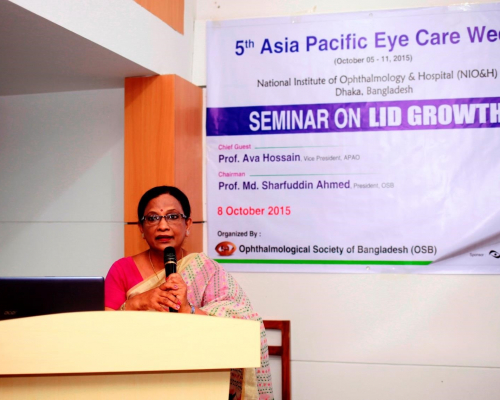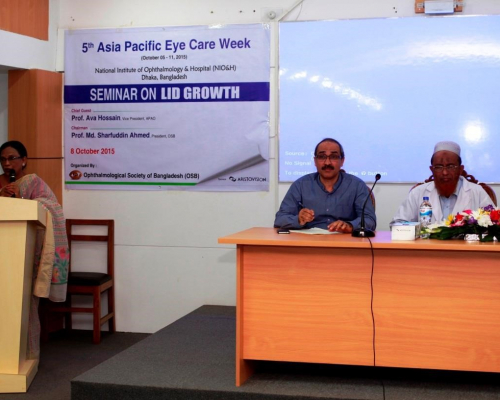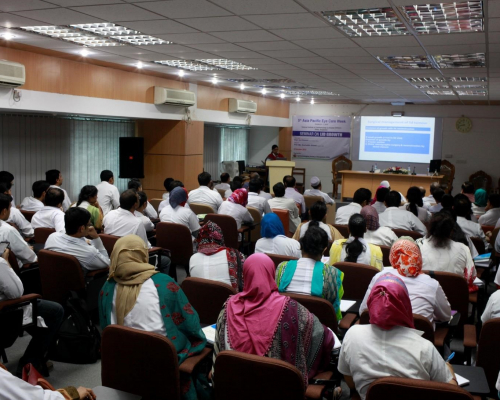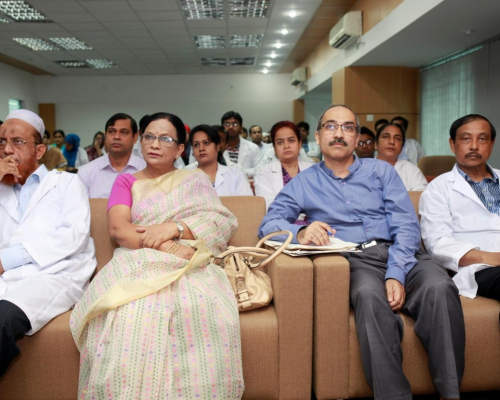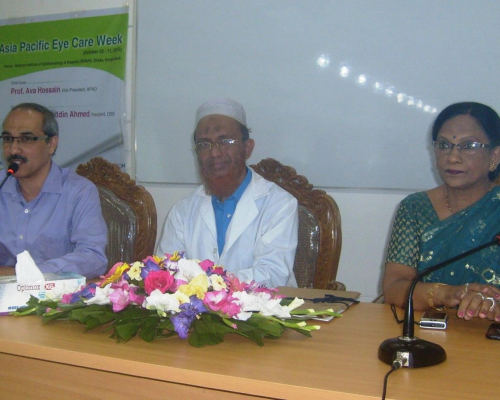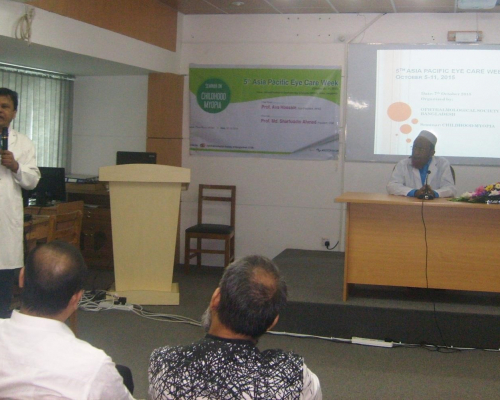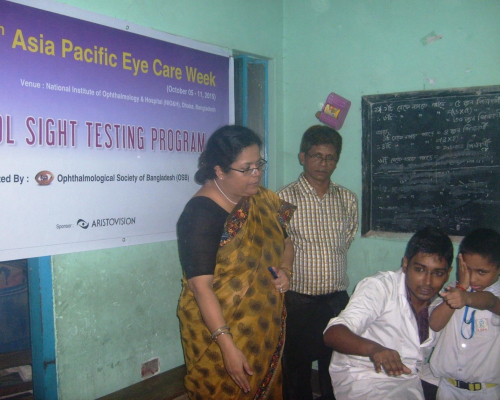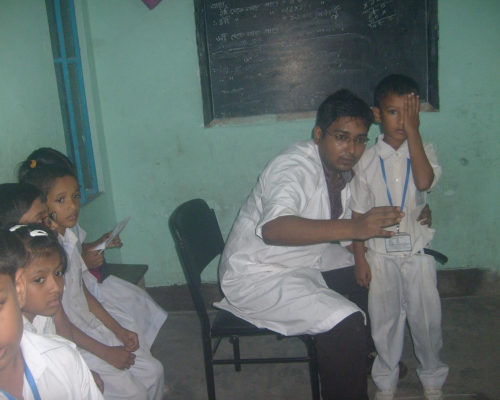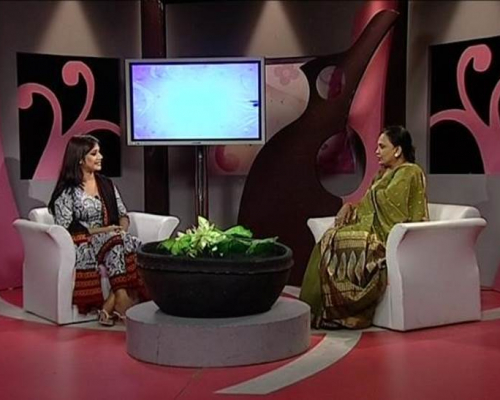 In China …
Ophthalmologists in Shandong province volunteered to conduct eye education and screening programs in local kindergartens. They instructed the children on how to protect their eyes and emphasized the importance of outdoor activities with natural light.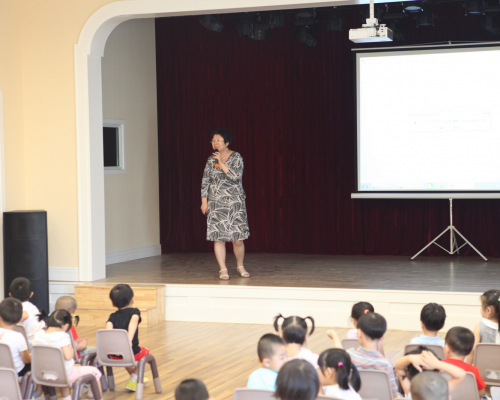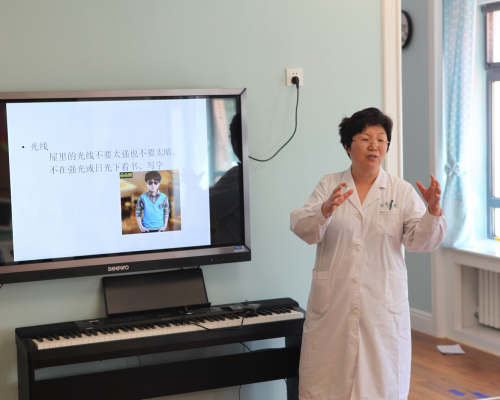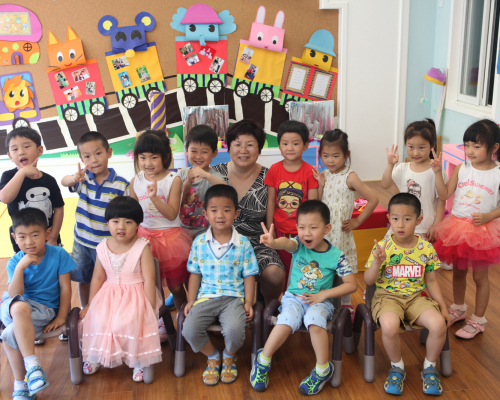 In Chinese Taipei …
The Ophthalmological Society of Chinese Taipei (CTOS) organized various activities during the 5th Asia-Pacific Eye Care Week, including a press conference, an interactive eye health exhibit, free eye checks and the release of the annual CTOS survey on national eye health. World Sight Day on October 8th coincided with the 5th Asia-Pacific Eye Care Week, which ran from October 5th through October 11th. As in previous years, CTOS and its industrial partner Alcon brought together members of industry, government and academia to promote eye health. The inclusion of several high-profile health officials drew the support of other organizations, as well as increased media exposure and influence. Notable partners this year included the Chinese Taipei Academy of Ophthalmology, the Chinese Taipei Visual Optics and Refraction Association, the Chinese Taipei Society of Cataract and Refractive Surgeons, the Chinese Taipei Agency for the Prevention of Blindness, the Chinese Taipei Care for All Association, Loving Blind Association, Lions International, Orbis, the Chinese Taipei Guide Dog Association and the Chinese Taipei Active Aging Association. Representatives from the Ministry of Health and Welfare and Health Promotion Administration also attended.
In Chinese Taipei and around the world, people's eyes are regularly under prolonged strain. To combat increasing rates of degenerative eye conditions, the CTOS created the public education message "Busy, Blurry and Blind – The Trifecta of Vision Loss." The results of the new CTOS survey on national eye health trends were released at the World Sight Day press conference. This study found that people in Chinese Taipei spend an average of 8.4 hours per day looking at mobile devices and other screens, which is 1.6 times greater than the average time of 5.3 hours reported in 2007. In more than half of residents between the ages of 20 and 54, the average time exceeds 9 hours per day. Additionally, nearly 40% of those between 45 and 54 years old reported more than 11 hours of screen time each day. These statistics are worrying, as overuse of mobile devices is one of the main causes of age-related vision degeneration. The increasing popularity of mobile technology, as well as related factors including small screen size and use in poorly lit environments, has severely affected eye health. CTOS Chairman Prof. Lin-chung Woung said that prolonged exposure to screens can lead to an increase in cases of premature macular degeneration in young people, putting them at risk for blindness, glaucoma, cataracts and retinal disease.
Dr. Tsai Ching-yao, Secretary-General of the CTOS, added that, according to a study conducted by the National Health Research Institutes (NHRI) in early 2015, those who are inactive for more than 7 hours are 20% more at risk for developing early-onset cataracts than those who sit less than 3 hours per day. The NHRI speculates that this may be due to looking at electronic screens for prolonged periods of time. Alarmingly, the CTOS survey showed that most people in Chinese Taipei exceed 7 hours of screen time per day, with 45 to 54 year olds making up the highest proportion (68.7%). This age group also has the highest number of cataract cases reported, which puts them at risk for blindness. At this rate, one in every two people will become at risk for developing early-onset cataracts.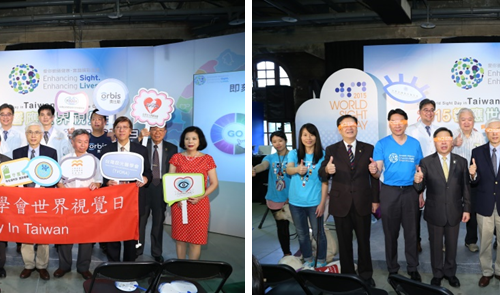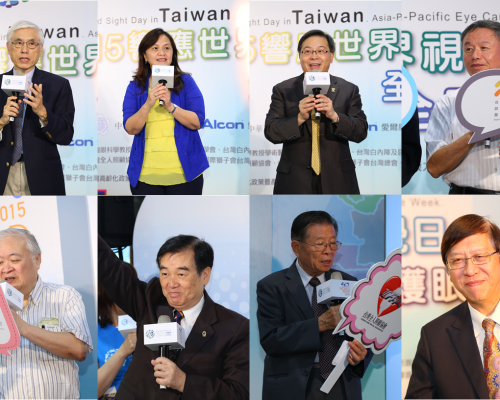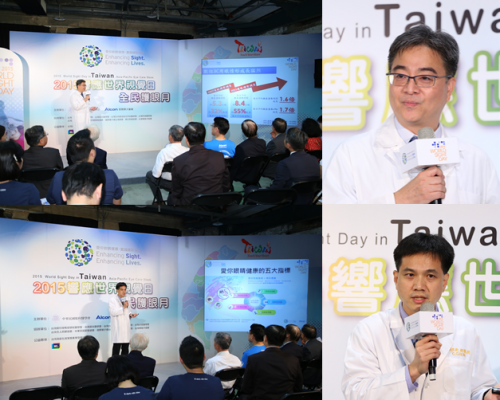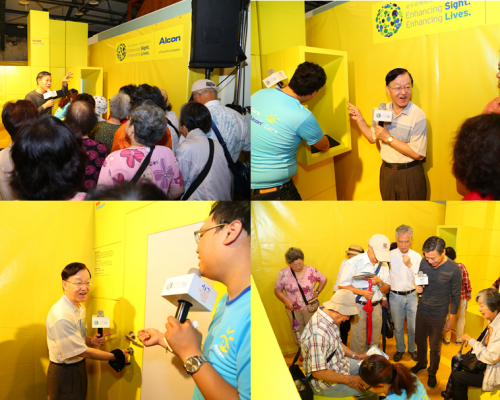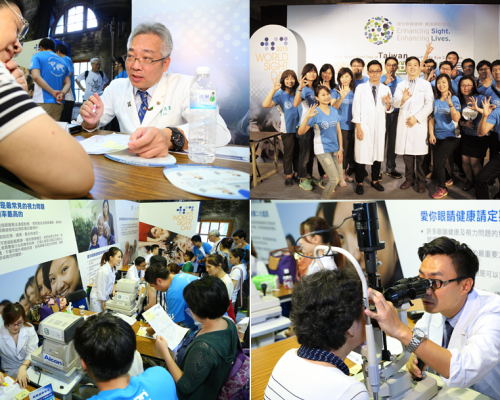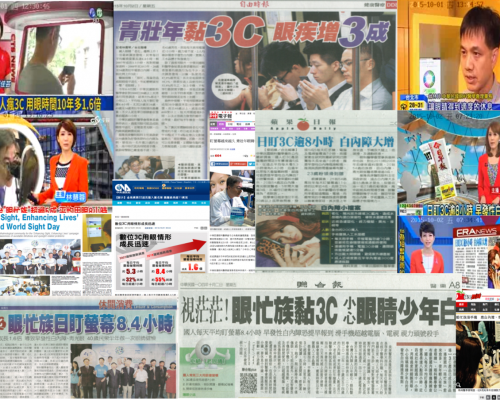 In Hong Kong, China …
During Asia-Pacific Eye Care Week, the Department of Ophthalmology and Visual Sciences at the Chinese University of Hong Kong continued its 2-year-long Hong Kong Children Eye Study, which includes an eye screening program for local children aged 6 to 8.
The program, which began in March 2015, offers free comprehensive eye screenings to 40 children every Saturday, with more than 800 participants thus far. After the screenings, appropriate spectacle prescriptions are provided to children with myopia, hyperopia and astigmatism, whereas those with amblyopia, strabismus or other diseases are referred for follow-up. Additionally, information about eye care is provided to all parents.
The Hong Kong Eye Study began in the Wan Chai District with support from the Wanchai District Council, Hong Kong Society for the Blind, Wanchai District Head Masters' Conference and the Methodist Center. It is also being held in Yuen Long and Tin Shui Wai and will expand to other districts in 2016.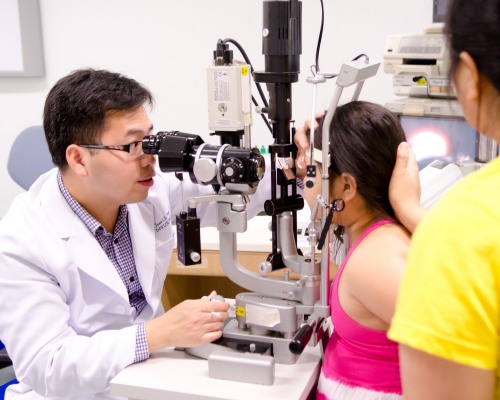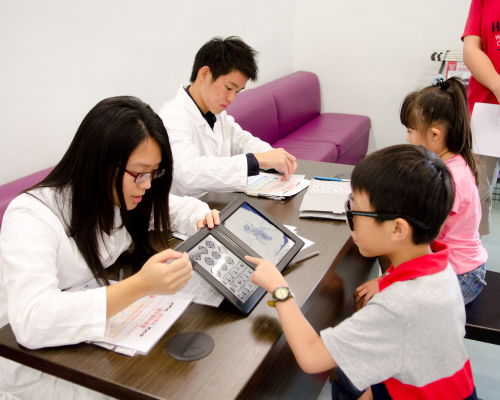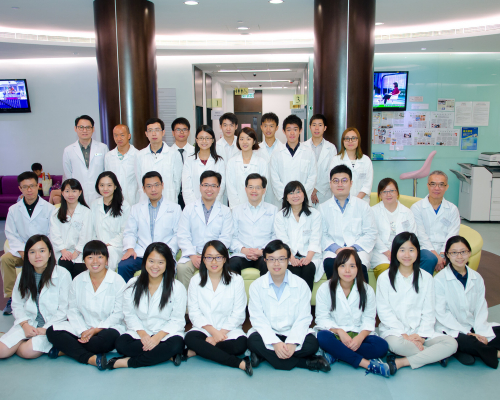 In Philippines …
The Philippine Academy of Ophthalmology (PAO), through the Philippine Society of Ophthalmic Plastic and Reconstructive Surgery, encouraged the different PAO chapters and ophthalmology departments of different medical institutions to participate in APAO's fifth annual Asia-Pacific Eye Care Week from October 5-11, 2015, in conjunction with World Sight Day (October 8).
The following were among the suggested activities regarding the topics of ptosis and nasolacrimal duct obstruction (NLDO):
. Public screening events
. Lectures to patient support group
. Outreach and fundraising programs
. Information campaigns about ptosis and NLDO
. Participation in radio & TV shows
At the University of Santo Tomas Hospital Eye Institute in Manila, free eye screenings and a discussion forum were organized for members of the public. Posters were also displayed in the outpatient department with information about eyelid tearing and ptosis, and Prof. Reynaldo Jevate, MD, FICS, appeared on the celebrity TV news show MARS to discuss these topics. Additionally, the hospital hosted lectures on nasolacrimal duct obstruction and the current surgical techniques for managing ptosis.
Asia-Pacific Eye Care Week was also celebrated by Cardinal Santos Medical Center; East Avenue Medical Center, Department of Health Eye; Far Eastern University, Dr. Nicanor Reyes Memorial Foundation; and Ilocos Training Regional and Medical Center.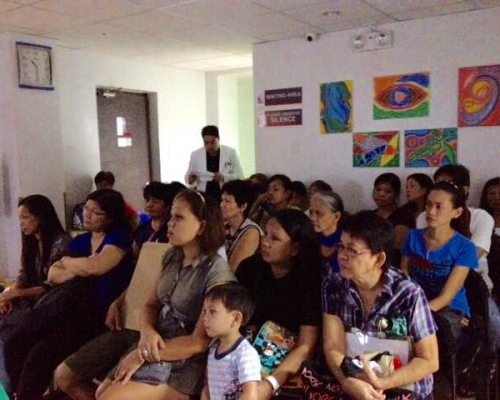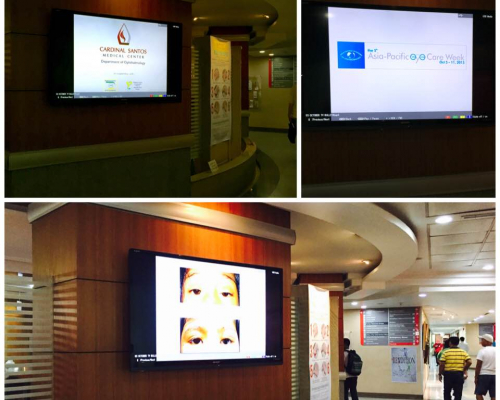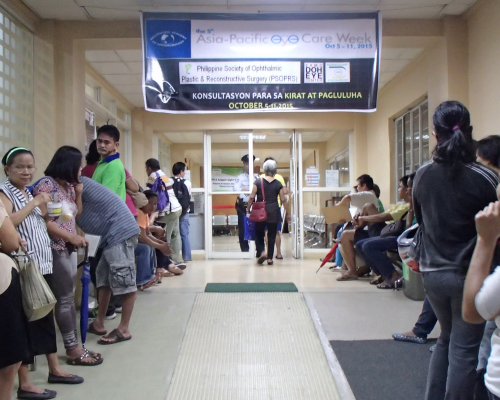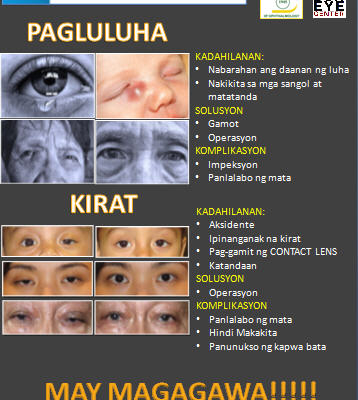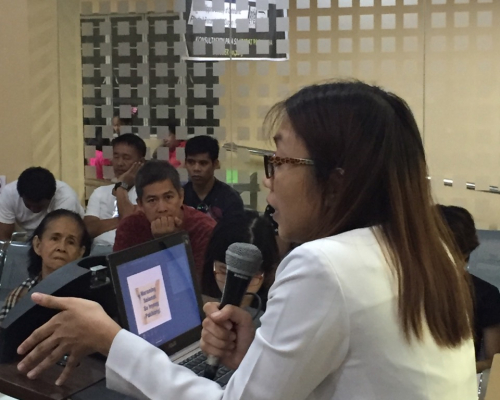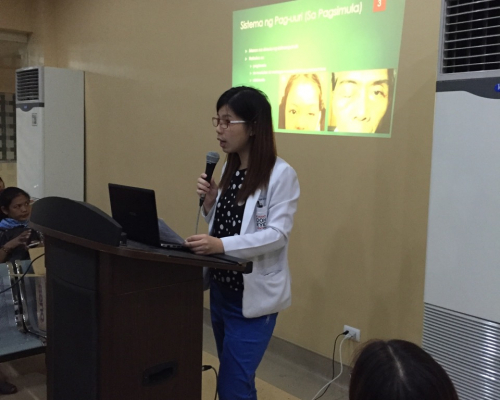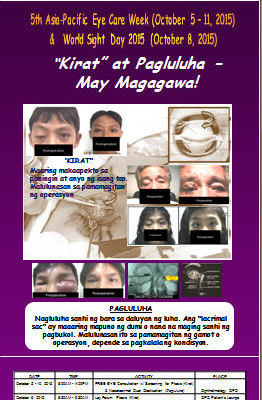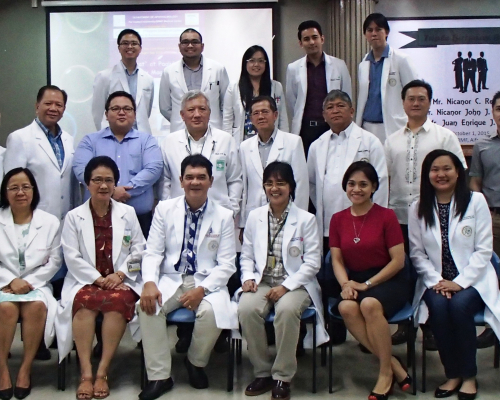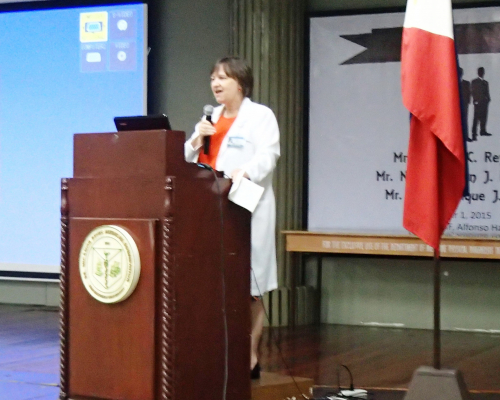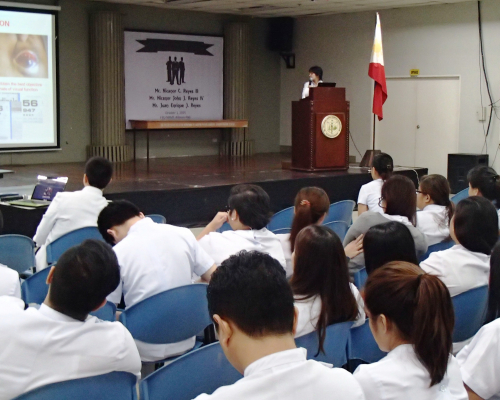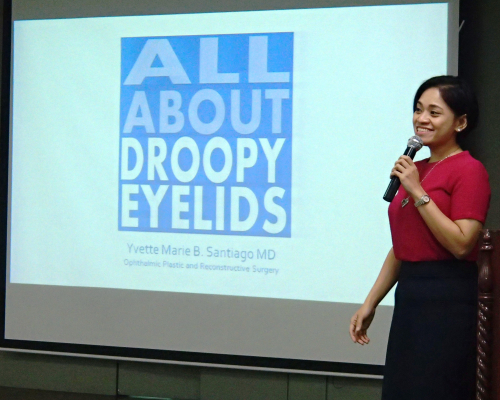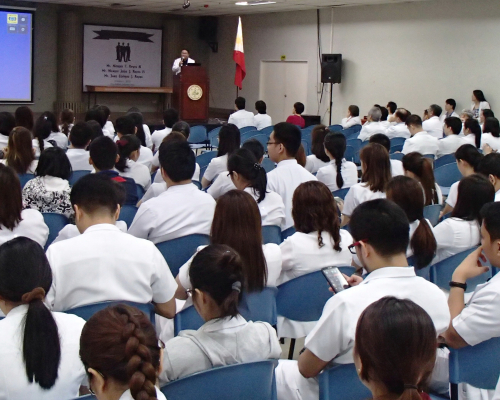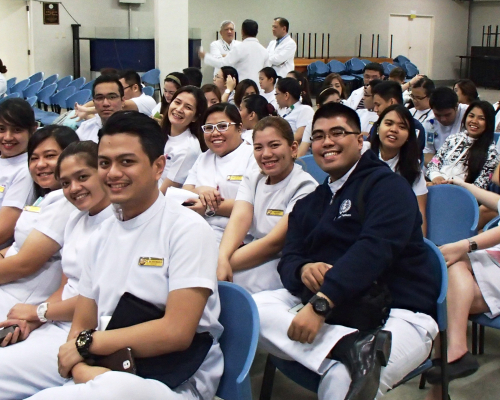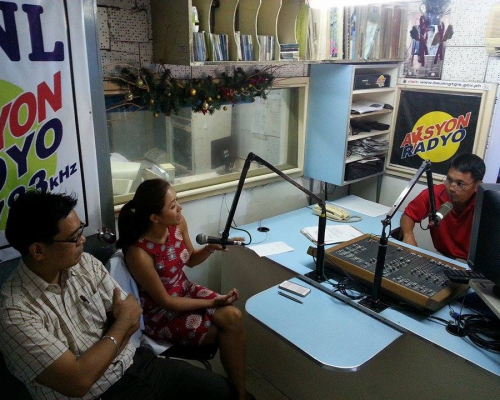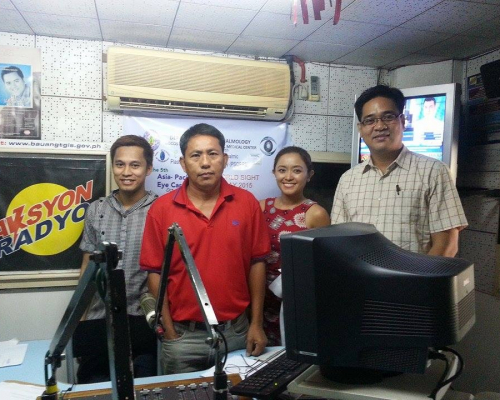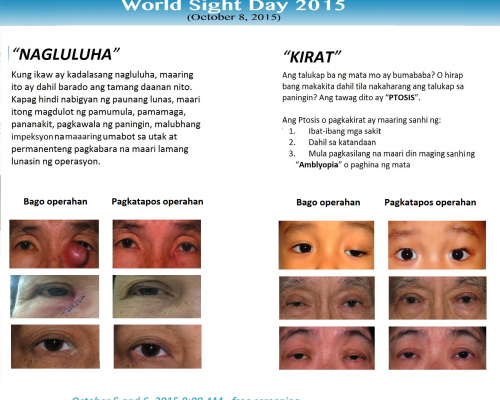 In Singapore …
During Asia-Pacific Eye Care Week on October 9th and 10th, the Singapore Society of Ophthalmology (SSO) held its 7th annual Mobile Eye Clinic, a community eye screening project in conjunction with Standard Chartered Bank and National University Hospital Department of Ophthalmology. For the first time, the eye screenings were held alongside comprehensive general health screenings, with support from members of the Department of Family Medicine. In total, 257 patients from the Bukit Batok area were screened, and of these, 40% were referred to ophthalmology clinics for follow-up.
The Mobile Eye Clinic project was established to help deliver eye care to needy members of the community in Singapore, such as those who are unable to access health care due to physical or financial barriers. The project involves collaboration among voluntary welfare organizations, ophthalmologists, nurses, optometrists, other health care workers and volunteers from Standard Chartered Bank. In the previous 6 Mobile Eye Clinic screenings, more than 800 elderly patients were screened, which helped to increase the attendance rate at tertiary eye care institutions from 30% to 60%.