We are pleased to announce that the Asia-Pacific Academy of Ophthalmology is organizing its fourth Asia-Pacific Eye Care Week in the second week of October, from October 6 – 12, 2014, in conjunction with World Sight Day 2014 (October 9, 2014).
This year, the Public Education Standing Committee has worked with the Central Secretariat to identify three main themes for the event, namely 'Primary Angle Closure Glaucoma & Acute Glaucoma', 'Retinal Detachment' and 'Important Ophthalmic Tumors'. APAO is working closely with subspecialty societies in the region, including the Asia Pacific Glaucoma Society (APGS), the Asia-Pacific Society of Ocular Oncology and Pathology (APSOOP), and the Asia-Pacific Vitreo-retina Society (APVRS), to produce a comprehensive set of educational material and media kit. Member societies are most welcome to use the reference materials for public educational purposes during the 4th Asia-Pacific Eye Care Week. Please feel free to download and use the artworks of the 4th Asia-Pacific Eye Care Week to acknowledge your support to our initiative.
Media Kit
Eye Care Campaigns in the Asia-Pacific Region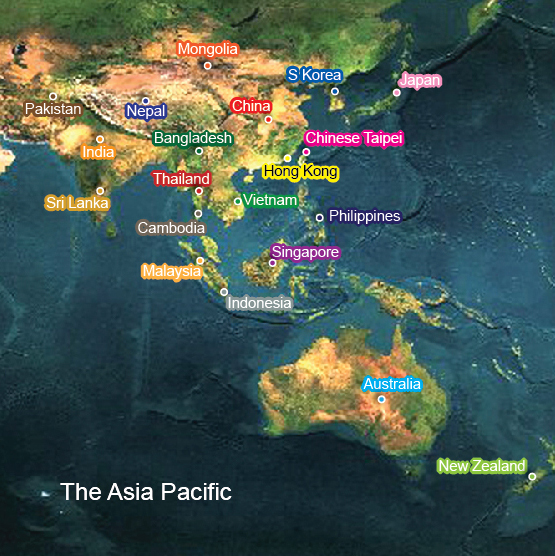 In Australia & New Zealand …
Staff of the Royal Australian and New Zealand College of Ophthalmologists (RANZCO) gathered for a BBQ on World Sight Day to join in conversation and come together in working towards elimination of avoidable blindness. RANZCO particularly wishes to share the work of Dr Tim Henderson, nominated as one of VISION 2020 Australia's Eye Health Heroes. For the last 14 years, Tim has been delivering eye care services in places where others dare not tread. As the director of eye health at the Alice Springs Hospital, Tim is the only ophthalmologist in the region for tens of thousands of people, many of whom live in remote communities across the red centre of Australia.
Tim shares: "The thing governments really need to understand is that investing in eye health is one of the most cost-effective things you can do. It delivers a higher quality of life, ensures people's independence and has an overall high positive return." Click here for more information.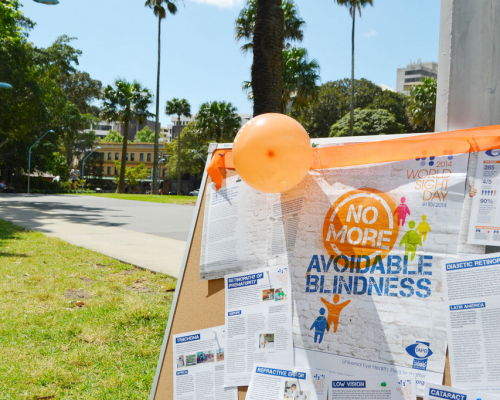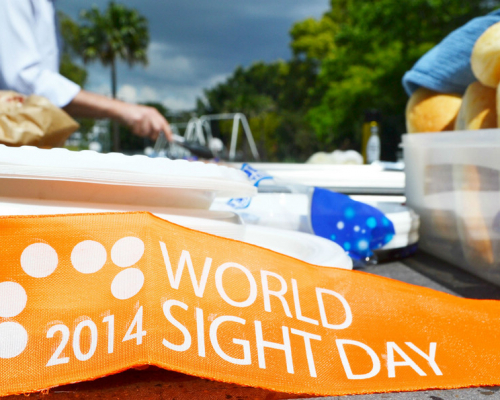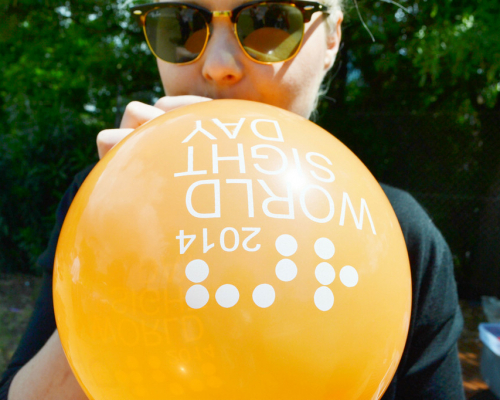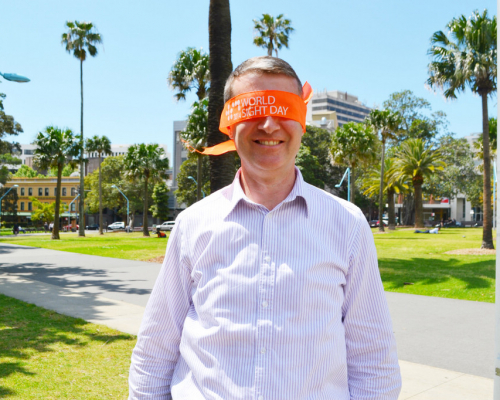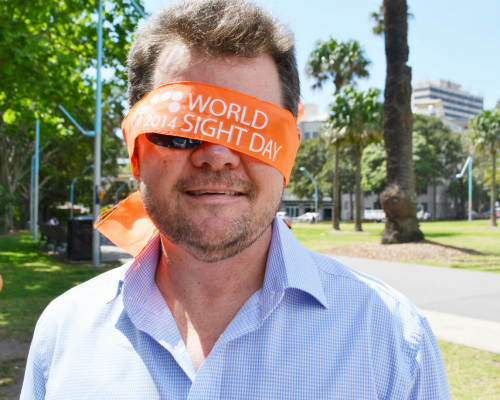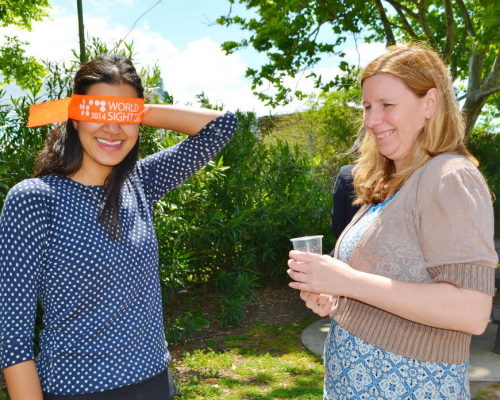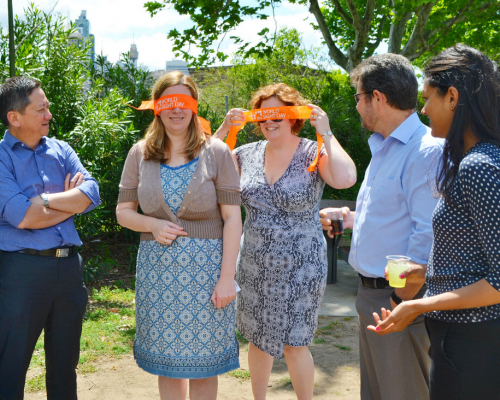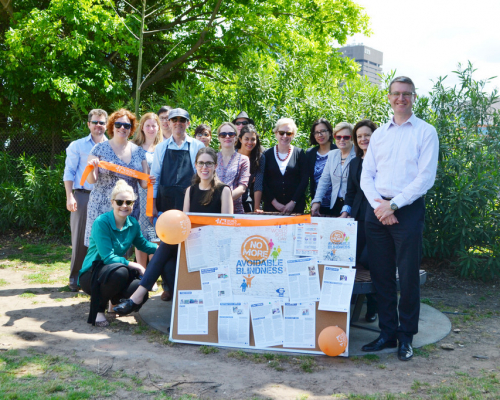 In Chinese Taipei …
In 2014, the World Health Organization (WHO) chose the theme "No More Avoidable Blindness" for World Sight Day on October 9. Pacific Vision Care Week was also scheduled in October to support World Sight Day. It was a unique opportunity to highlight major international public health issues such as preventing avoidable and unwanted eye problems.
To coincide with World Sight Day 2014 and the second Asia-Pacific Eye Care Week, the Ophthalmological Society of Chinese Taipei (CTOS) organized its "Enhancing Sight, Enhancing Lives" campaign aimed at raising public awareness of avoidable blindness. Various academic, industrial and civic organizations were involved in the program, including the Taiwan Academy of Ophthalmology, Taiwan Visual Optics and Refraction Association, Taiwan Association for Prevention of Blindness and Low Vision, Taiwan Society of Cataract and Refractive Surgeons, Taiwan Care for All Association, Loving Blind Association, Taiwan Guide Dog Association, Lions Clubs International Foundation and Alcon Chinese Taipei.
According to the WHO, there are approximately 39 million blind people around the world, and 80% of these cases can be cured or avoided. The top two eye problems in the world are cataract, the leading cause of blindness (51%), and refractive error, the main cause of impaired vision (42%). As poor eyesight is detrimental to daily life, the focus of Chinese Taipei's World Sight Day campaign was to promote the importance of eye health.
Three press conferences received an overwhelming response of more than 100 reports in Chinese Taipei's major newspapers and network media. Furthermore, a series of eye care forums attracted numerous members of the public. The Enhancing Lives stories, collected from all over Chinese Taipei, were published on social networks, resulting in engaging discussions and more than 10,000 page views.
At an eye screening event, leading doctors from prestigious hospitals used striking visual aids to explain eye conditions like glaucoma, cataract, dry eye, refractive error and retinopathy. Additional doctors were present to offer eye care tips to members of the public and conduct vision tests, IOP measurements and eye check-ups. Overall, World Sight Day 2014 was a successful effort at educating the people of Chinese Taipei on eye health issues.
Prof. Fung-Rong Hu, a distinguished eye doctor and the president of the Ophthalmological Society of Chinese Taipei, noted that Chinese Taipei is becoming an elderly society and ranks number one in the world in terms of its nearsightedness rate. These two factors are potential threats to healthy vision. Therefore, he encouraged people of Chinese Taipei to establish proper eye habits so that they can continue to live a full life.
Prof. Lin-Chung Woung, executive director of CTOS and convener of the 2014 World Sight Day campaign in Chinese Taipei, remarked that education and proper eye care are key to avoiding most eye conditions. "Early screening and early treatment are crucial to maintaining healthy eyes. Early diagnosis helps to ensure that all problems get properly treated," he said.
The Ophthalmological Society of Chinese Taipei has noticed that people of Chinese Taipei in all age groups are exhausting their eyes. According to the Ministry of Education, junior high school students spend an average of four hours per day using online games and social networks. Moreover, people of Chinese Taipei lead the world in daily smartphone use, with an average multiscreen usage time of 8.5 hours per day. This means that on average, people spend more time looking at screens than sleeping (just 7.3 hours per night)! To promote eye health, the Ophthalmological Society of Chinese Taipei encourages people to STOP, SEE and LISTEN now.
STOP the excessive strain or use of eyes.
SEE different views from different distances with appropriate rest.
LISTEN to your doctor's advice and have regular eye check-ups.