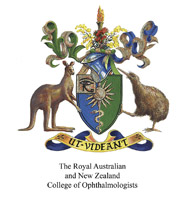 The Royal Australian and New Zealand College of Ophthalmologists (RANZCO) is the professional body representing more than 1,000 ophthalmologists in Australia and New Zealand.
Its mission is the improvement of the already high standard of eye care which exists in the two countries. In pursuit of this goal, it provides a variety of services centered on its core roles as a higher educational institution and learned society.
The College's services cover the total spectrum of eye care delivery, from the promotion of scientific research to the training of specialists and lifelong support for service delivery and patient care.

Professor Nitin Verma
President


Contact Information:
Royal Australian and New Zealand College of Ophthalmologists
94 – 98 Chalmers Street, Surry Hills, NSW 2010, Australia
Phone: +61-2-9690-1001
Fax: +61-2-9690-1321
Email: president@ranzco.edu
Website: www.ranzco.edu